About EMS
The Department currently operates with 28 EMT/ Basic, 1 EMT/Advanced and 23 EMT /Paramedics out of 3 fire stations. We continue to utilize four International/Horton Class 1 ambulances and one Advanced Life Support equipped fire engine.
2015 saw a total of 3237 EMS calls. This is an increase of approximately 366 EMS calls compared to 2014.The average response time, from notification to arrival on scene is 5 minutes or less. The majority of these calls were considered Advanced Life Support. 51.22% of EMS calls were in Centerville, 28.39% were in Marstons Mills, 16.47% were in Osterville and the remaining were mutual aid assistance to neighboring communities outside of COMM. 71.7 % of transports were to Cape Cod Hospital. The remaining transports were to Falmouth and Boston- area hospitals. The average age of patients requiring EMS was 63 years of age and there was nearly a 50% split between men and women.
Ambulance revenue received in fiscal year 2015, July 1, 2014 through June 30, 2015 was $1,257,878.40.
COMM Paramedics and EMT's continuously train to maintain excellence in treatment and the highest standard of care.
The Department has an aggressive Quality Improvement/ Quality Assurance program in place. We welcome all feedback regarding your experience and interaction with our service. Feel free to contact me at: JDAVERN@COMMFIREDISTRICT.COM
COMM Fire Rescue uses the LIFEPAK 15 Monitor:
The LIFEPAK® 15 monitor/defibrillator is the new standard in emergency care for ALS teams who want the most clinically innovative, operationally innovative and LIFEPAK TOUGH device available today. The 15 integrates Masimo Rainbow SET technology that monitors SpO2, Carbon Monoxide and Methemoglobin, includes a metronome to guide CPR compressions and ventilation's and provides an option to escalate energy to 360J. An entirely new platform, the 15 is powered by Lithium-ion battery technology, incorporates the SunVue display screen for viewability in bright sunlight, and data connectivity to easily and securely collect and send patient information.
Ambulance Billing
For Ambulance billing inquiries please contact Comstar.  (800) 488-4351.  Address:  8 Turcotte Dr., Rowley, MA 01969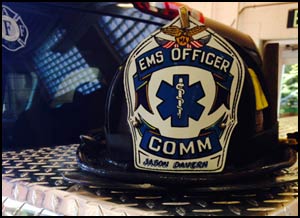 Lt. EMS Officer:  Jason Davern
To contact Jason call:  508-790-2375
Email:  jdavern@commfiredistrict.com
COMM Fire Rescue Responded
to 3141 EMS calls in 2013.
53.87% of EMS calls were in Centerville
28.65% of EMS calls were in Marstons Mills
14.49% of EMS calls were in Osterville
News & Updates
Open burn season is Jan. 15 – May 1st only. You must check daily to ensure atmospheric conditions are allowing burning. View current status on Open Burning page or on recorded phone line 508-771-2089
Congratulations to re-elected Commissioners:
David Lawler
Scott Crosby
Ed Riley